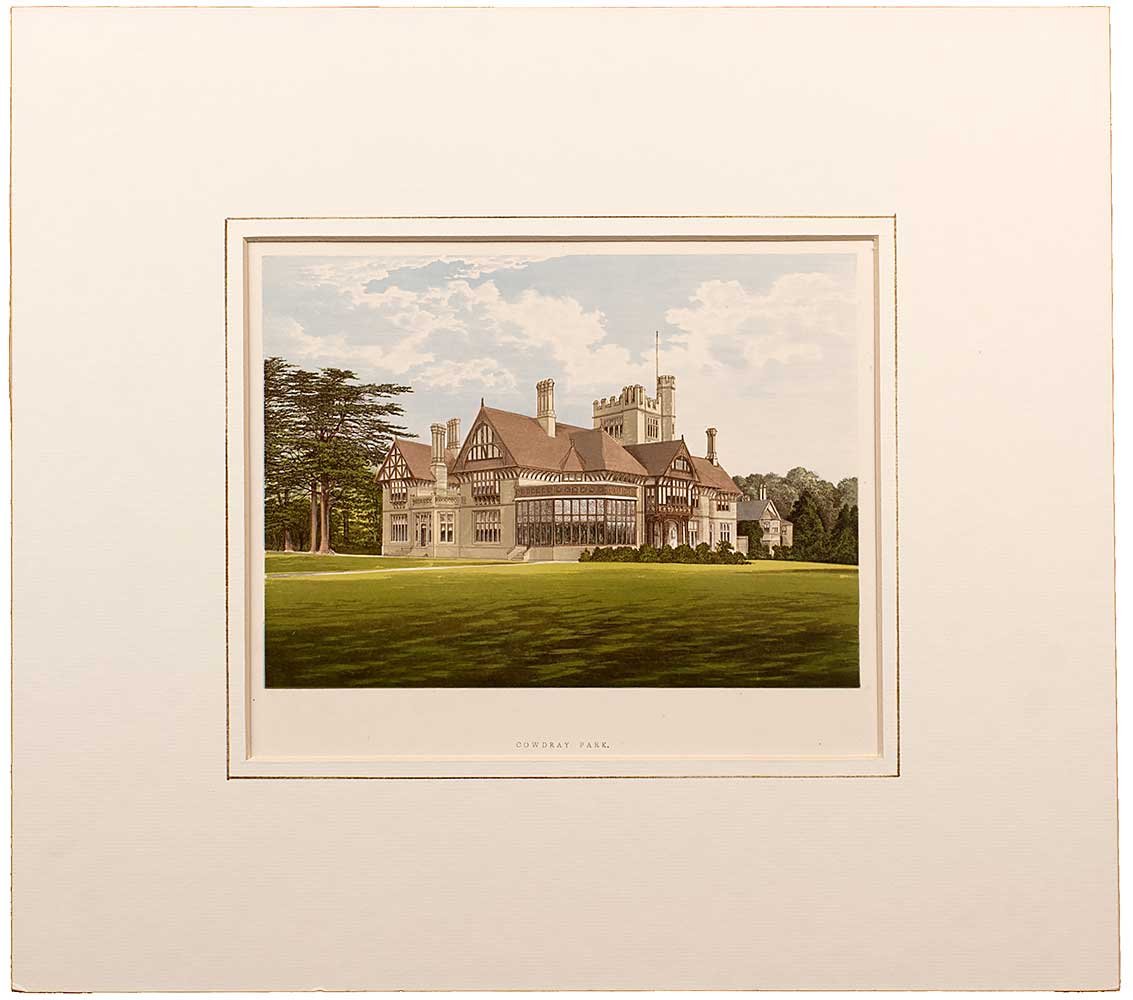 URN:

17.07

Artist Name :

LYDON, Alexander

Artwork Name:

Cowdray Park Chromolithograph (2) - 1870

Printing Process:

Lithograph

Support Surface:

Paper

Overall Size (w x h, cms):

36 x 32.5 cms

Image Size (w x h, cms):

20.5 x 17 cms

Price:

£30.00
This price includes DELIVERY, and VAT if applicable.
read more
Locale of work:

England, Midhurst, West Sussex

Category:

Prints

Print Category:

Antique Prints

Subject Category:

Architectural And Buildings And Historical And Icon - Landmark And Midhurst - Local & Surrounding Area And South Downs National Park And Trees - Plants - Flowers

Colour:

Colour

Colour Application:

Original Printed Colour

Verso:

There is nothing printed on the reverse side, which is plain.

Condition of Artwork:

Very good for its age

Framing State:

Lined Mount

Printer:

Benjamin Fawcett

Publisher:

William Mackenzie, Ludgate Hill, Edinburgh and Dublin.

Publication Magazine:

Picturesque Views Of Seats Of The Noblemen And Gentlemen Of Great Britain And Ireland (1870)

Notes:

An original antique 1870 chromolithograph of Cowdray Park Ruins in Midhurst, West Sussex. This image was drawn by Alexander Lydon (1836 - 1917) and printed in colour by Benjamin Fawcett (1808 - 1893). This series of full colour lithographs were all produced for the Rev. Francis Orpen Morris publication " Picturesque Views of Seats of The Noblemen and Gentlemen of Great Britain and Ireland..." (c. 1870), which was published by William Mackenzie. Mackenzie of Ludgate Hill, Edinburgh and Dublin often published works by Morris, illustrated by Lydon and printed by Fawcett, but this book was by far the most famous that he had published, and the one that he is best known for. The trio of Rev. Frances Orpen Morris, Alexander Lydon and Benjamin Fawcett had all previously worked together, most notably on "A History of British Birds" beginning some years earlier in 1851, to immense success and lasting fame, so much so that all future publications they made together were bound for success simply by the president now attached to their names. This artwork has been presented in an attractive lined mount.

Further Information:

Cowdray Park lies in Midhurst, which is a charming little town on the banks of the river Rother, in the heart of the South Downs National Park in West Sussex, and is home to the Park's new Visitor Centre. Along the Midhurst Town Trail visitors discover historic Tudor buildings gourmet restaurants and cafes, independent shops and one-off boutiques and over 100 listed buildings with charming local character. Some of the South Downs finest vineyards are nearby. Despite its small size, Midhurst is a bustling market town and truly a little gem, nestled in a beautifully picturesque and nationally recognised area of outstanding natural beauty. The surrounding South Downs area is equally complimented by wonderfully diverse countryside including acres of attractive downland, woodland, wetland and heath. Numerous National Trust properties, parks and museums also lie within a stone's throw of Midhurst giving the area a distinct diversity of culture and liveliness whilst retaining a quintessentially English character. The town of Midhurst is also the home of The Midhurst Gallery, where we have been established for over 30 years.