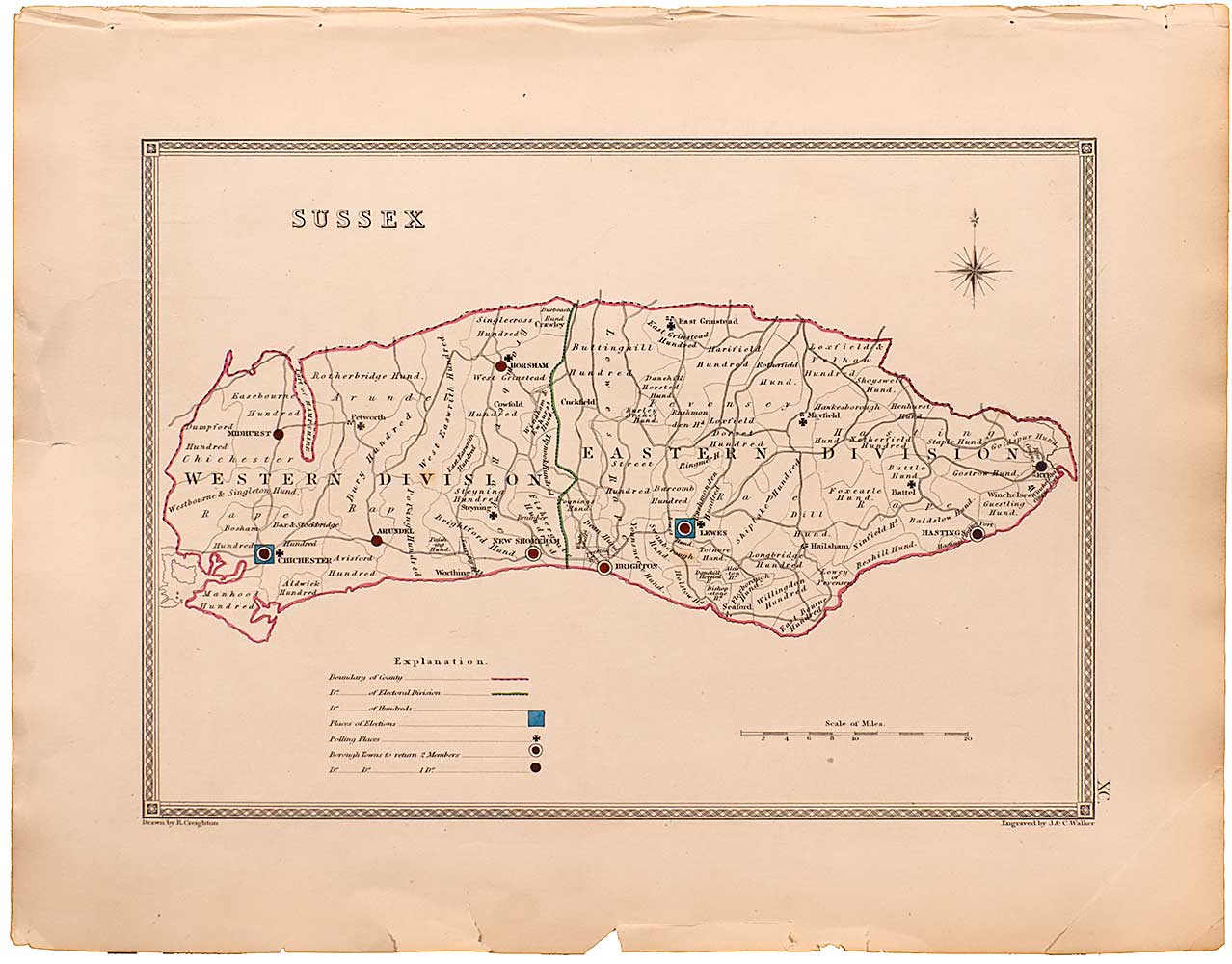 URN:

38.37

Cartographer :

CREIGHTON, R.

Artwork Name:

Sussex Divisions Map - 1835

Printing Process:

Steel Engraving

Support Surface:

Paper

Overall Size (w x h, cms):

32 x 25 cms

Image Size (w x h, cms):

26 x 18.5 cms

Price:

£22.00
This price includes DELIVERY, and VAT if applicable.
read more
Locale of work:

England, Sussex

Category:

Maps

Print Category:

Antique Maps

Subject Category:

Historical And Maps And Midhurst - Local & Surrounding Area

Colour:

Colour

Colour Application:

With Original Hand Colour

Verso:

There is nothing printed on the reverse side, which is plain.

Condition of Artwork:

Very good for its age. Some very small minor marks, two small spots of foxing. The edges of the paper are somewhat torn and tattered, but even cropping would still leave ample margins for mounting and framing.

Cartographer:

CREIGHTON, R.

Engraver:

WALKER, J. & C.

Publisher:

Published by Samuel Lewis and Co., London: 3rd Edition.

Publication Magazine:

A Topographical Dictionary Of England, 3rd Edition. (1835)

Edition Series Volume:

Plate XC.

Notes:

An original antique steel engraved map showing the Eastern and Western Divisions in Sussex. This map was engraved by J. & C. Walker after plans produced by R. Creighton. These plans were originally drawn up to depict the 'former and present' boundaries of cities and boroughs, in relation to the great Reform Act of 1832. This map is in fine and clean condition and shows the electoral divisions, places of election, polling places and the Borough Towns entitled to return Members of Parliament. bearing original hand colour and with an explanation at the bottom. Published in Samuel Lewis's "A Topographical Dictionary of England", 3rd Edition (1835).